American Jobs
Creating American jobs is our jam. The Q-Flex is proudly made in the U.S.A
No B.S.
The Q-Flex only has 2 tips, which is all you need for fast & efficient relief.
Flex On 'Em
Other products are made with uncomfortable & rigid plastic, but Q-Flex is made to comfortably flex.
Fits In Carry-On
Compact & lightweight but mighty design ensures you can take relief on the go!
sOOTHE sORE mUSCLES
Nearly every person suffers from body pain or soreness. The Q-Flex is the perfect solution to help soothe sore, tired and tight muscles. It releases endorphins to help relieve pain and increases circulation to promote healing. To learn more about the science behind The Q-Flex click here..
Lower Back Relief
The thoughtful design of the Q Flex allows you to easily soothe lower back muscles
TLC For Your Legs & Feet
In addition to your back and neck, Q Flex is the perfect way to bring some much needed TLC to your legs and feet.
Free & Fast Shipping
The Q-Flex is personal acupressure system, and a self-massage device that enables the user to massage hard to reach areas anywhere on the body. It is ergonomically designed to help relieve shoulder tension, neck aches, back pain. Acupressure also helps to promote healing, health, or balance body energy. But more on that later.
The Q-Flex is a flexible device that relieves pain and stress. The hook-shaped design allows you to get to hard to reach spots without another's help. Its pear-shape tip creates a deep tissue massage anywhere on the body. The Q-Flex applies just right amount pressure to sore spots and knotted muscles, especially in the back area. You can also use the Q-Flex to sooth tired and sore feet, or perform a deep tissue massage to increase blood circulation to promote healing. Acupressure is known to help boost immunity, balance body energy, and enable deep relaxation.
As Seen On Shark Tank!
Watch the Shark Tank follow up and what happens after the deal.
Did you know?
Andrea was only 13 when she pitched Q Flex to the Sharks and got a "deal" with two sharks, Mark Cuban, and Barbara Corcoran.
From Our Health & Wellness Blog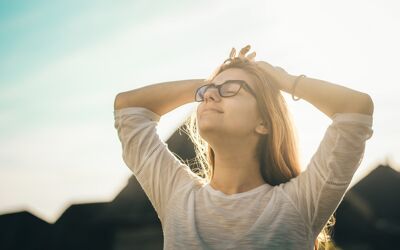 Stress. Nobody enjoys it but we all experience it at one time or another. Mild stress is common for most people when put into challenging and stressful environments. However, stress can also result in long-lasting symptoms that can affect your life on a daily basis....
read more
Our Roots
The glorious Q-Flex was invented by entrepreneur Andrea Cao when she was just 13 years old. After pitching on ABC's Shark Tank, the Q-Flex was backed by sharks Mark Cuban and Barbara Corcoran. To this day, Q-Flex is family owned and operated in sunny San Luis Obispo, California.